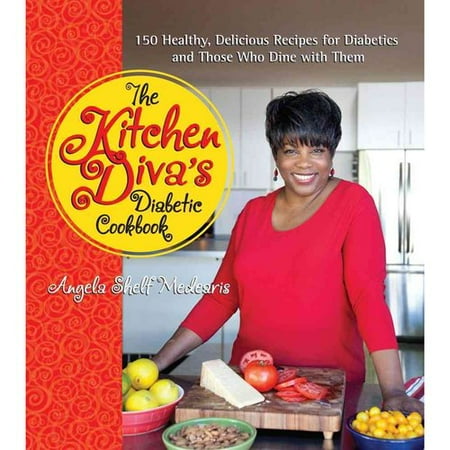 You can purchase this book at WalMart (while supplies last) by clicking 
on the picture above.
 About the Author
The Kitchen Diva's Diabetic Cookbook was written by The Kitchen Diva, Angela Shelf Medearis and published on April  24, 2012.  She was born in Virgina. Angela Shelf Medearis is an accomplished author of over 100 children's novels which projects African-Americans in a positive light, highlights their culture and history. In addition, she has written seven (7) cookbooks which are sold worldwide and have been translated into various languages. For example, French, Japanese, and Spanish. For that matter, her books have sold millions of copies worldwide. Furthermore, Angela Shelf Medearis is the founder and President of her own company, Diva Productions, Inc. (a noteworthy accomplishment for an African-American woman). She has made numerous appearances on Television Shows as KITCHEN DIVA, as she is renowned to be called. Shows include but not limited to: The Today Show, The Discovery Network, QVC, PBS, Dr. Oz, Food Network, and DIY. You can visit her HERE on Twitter:  You can also visit her website for additional information HERE
Will her family history of diabetes prove beneficial to everyone?
This book project to cater to all individuals looking for a healthy eating and living lifestyle. Angela Shelf Medearis history of diabetes within her family, including her husband, mother, father and a younger sister who was diagnosed with type 2 diabetes. Type 2 diabetes is a disease where the body doesn't regulate insulin/blood sugar correctly. That is, either the body does not produce enough insulin or resists it. Her family history lends to her keen understanding of preparing meals everyone can enjoy including herself who is not diabetic.  This cookbook projects to satisfy all the various needs of all diabetics with much-needed information as well as healthy, delicious recipes suitable for everyone. 
In Search of Diabetic Healthy Recipes For Everyone!
As a type 2 diabetic of  13 years, along with hypertension, cholesterol, and other health-related issues, I will be keenly interested to see how this book stands up regarding blood sugar/glucose control, sodium intake, ingredients, portion size, meal planning for children and non-diabetics, recipe suggestions for weight maintenance or loss along with some form of calorie management.  Let's dig in and see if The Kitchen Diva offerings on a tasty, '150 Healthy, Delicious Recipes for Diabetics and Those Who Dine with Them' measure up!
PROS
♦ Easy to understand and follow recipes with a continuous flow of the very colorful picture.

♦ An extremely healthy combination of using standard comfort foods, traditional, southern, and ethnic dishes to lively up your taste-buds.

♦ Following recipes leads to consistent awesome, healthy and tasteful meals.

♦ Nutritional information along with carb counter for every meal.

♦ Tips (The Healthy-Kitchen Guide ) on creating a healthy kitchen, pantry, refrigerator, freezer, fast-foods while maintaining supplies in a cost-efficient manner along with many time-saving techniques to get your healthy mouth-watering dishes to the table faster. For example (a) using produce as soon as possible after purchase and saving frozen fruits and vegetables for the end of the week. (b) purchasing fruits and vegetables during their season to maximize savings and prepare and freeze them for another time. (c) storing dried herb and spices in an airtight container in a cool and dry area for around six months.

♦ Recipes are consistently low-sugar, low-sodium, low-carb/fat, kids/children-friendly while satisfying diabetic needs and support the healthy eating lifestyle of families, friends, and everyone.

♦ If you are looking for recipes for holidays and special occasions, The Kitchen Diva has you fully covered here also.

♦ Recipes are also friendly for individuals trying to lose or maintain weight.

♦ A full array of cost-conscious delights to whet your appetite and bring your taste-buds alive with an eye on maintaining diabetics blood sugar levels.

♦ A very useful resource for newly diagnosed diabetics.
Here is a sampling of some of the recipes by titles:
Recipe Samplers: 
♦ Farmers Market Veggie Juice. Start your day with a nutrient-packed juice filled with fresh produce.
♦ Asian-Styled Chicken Wraps.

♦ Spinach and Tomato Crustless Quiche.

A very tasty 'salad-topped quiche' filled with protein, easy to make, cost-efficient, suitable for any meal, and will bring your taste buds to life.
♦ Apple-Stuffed Waffle Sandwiches. A tantalizing and delicious sandwich for everyone and a definite favorite for kids.
♦ Power Smoothie. This 'protein and fiber-packed power smoothie' will undoubtedly become a daily staple for everyone especially smoothie lovers.
♦ Fruity Tofu Smoothie. Another cost-efficient source of protein made with soft tofu and blends easily in many dishes. This recipe will become a great addition to your version of smoothie paradise.
♦ Jerk Chicken Salad with Tropical Fruit Dressing. (Featured on the Dr. Oz Show)
♦ Roasted Tomatoes Stuffed with Lemons and Herb Cauliflower. (Featured on the Dr. Oz Show)
♦ Buttermilk Pecan Crusted Tilapia. (Featured on the Dr. Oz Show)
♦ The Kitchen Diva's Seasoning Mix.
♦ Blue Cheese Dressing.
♦ Italian Garlic and Herb Salad Dressing.

♦ No Salt Spice Mix.

♦ Kickin' Barbecue Sauce.
♦ Parsley-Walnut Pesto

CONS
♦ You may have to call on your reserve strength to not overindulge in these awesome mouth-watering recipes.

♦ If you are set in your cooking and eating ways and not willing to try new ways, this book will not be up your alley.

♦ Diabetics may need to exchange some ingredients in some recipes. However, they can enjoy the original recipe with portion size and moderation as a guideline.
♦ There will be some individuals who will not like this recipe book. Their voices will be in the minority.

Final Thoughts!
Angela Shelf Medearis has covered all the necessary bases in her diabetic recipe book suited for a healthy eating lifestyle for everyone. Her family history of diabetes has served her tremendously in this book. She is a worthy KITCHEN DIVA. The list of positives is many. Some worth repeating is (1) Healthy combination of comfort, traditional, ethnic, and southern foods. (2) Nutritional information and carb counter for every meal. (3) The Healthy Kitchen Guide. (4) Consistent recipes with low-sugar, sodium, fat/carb, including kid-friendly meals, meals supporting weight loss, holidays, special occasions, while being cost-effective, and suitable for everyone.
In my mind, this book is a classic and a resource to be enjoyed over and over again. The Kitchen Diva's Diabetic Cookbook should be a part of everyone's library supporting a healthy eating and living lifestyle, including diabetics. Buy this treasure and enjoy with supreme confidence. Portion control and moderation are hallmarks of diabetic eating. Thus, diabetics enjoying some of the recipes in their original form should be seamless. As always, everyone should consult with their Primary Doctor and Registered Dietitian/Nutritionist before making changes in their eating habits or weight loss programs. Your health is and should always be a priority. All comments are always welcome and encouraged and will be addressed in a timely manner.
I have put together a collection of  9 Angela Shelf Medearis books for your browsing pleasure. Cookbooks, Children's books (many of you will love Seven Spools of Thread: A Kwanzaa Story and Coretta Scott King: Dare to Dream. You can purchase any of the 9 books listed in the collection by CLICKING ON YOUR CHOICE/S. Thank you for your patronage. I would greatly appreciate feedback on the book review or on any books, you have purchased/read. (what are your thoughts?) Thank you for visiting!
Healthier habits begin today. Shop health and wellness essentials at Walmart.com